Online essentials.
SEO building blocks.
Just starting up your new business or trying to get your existing business started online, we have put together the KickStart SEO plans to help you get started. Included in the KickStart SEO are the essential building blocks of every successful SEO effort. 
Search Results >
make all the difference between success and failure
Getting Found!
With about 70% of most website's traffic originates from a search engine inquiry, it is extremely important for the long-term health and growth of all businesses to manage and grow their online presences.

Don't settle and stay hidden! Rize above your competitors!
Avitech -
Security Alarm Surveillance Cameras Home Automation Home Theater Lighting Control
Corpus Christi Texas
Helping customers find your business
Number of searches that are discovery searches
Percentage of Google My Business visitors from Google Maps
Google My Business visitors who visit your website
Google My Business visitors who will call your business
Importance of accurate citation and directory listings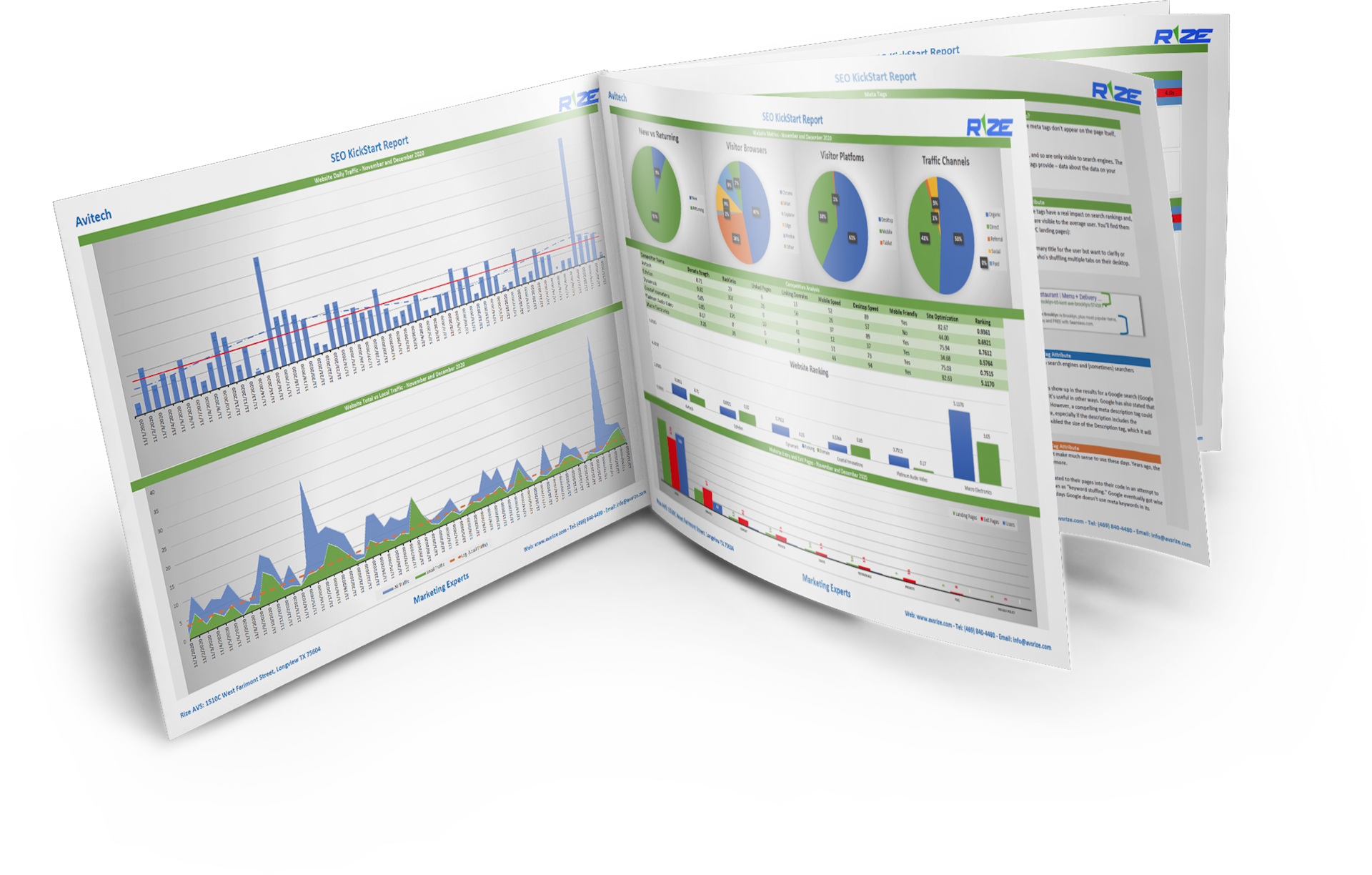 KickStart SEO Features
We have bundled the basic SEO building blocks to take your business online into several plans and packages to best fit your business goals and budget. Check out our Local SEO page if you are looking for more.
Meta Tags
Meta Tags are snippets of text that describe what the page is about, but they don't show on the page itself, only in the page's code.
Website Analytics
Using a website analytics will provide  you with the intelligence to help you can help you build a successful online presence.
Webmaster Tools
Webmaster tools provides you with important information about your website and can also help you find and fix website errors, submit new pages, and much more.
Google My Business
A Google My Business account lets you manage and control dozens of features like reviews, services areas, products and services and even office hours.
Bing Places
Bing Places for Business is an essential requirement for customers who want to reach the 15% of searchers who use the Bing search engine and its affiliates.
Aggregators
Aggregators are data mining systems that spread your business information online. Ensuring their accuracy will help customers find you and will boost your rankings.
Citations & Directories
A Local Citation/Directory is any mention of your business online. This includes your local town economics' center to a listing of who, what, and where about your business. 
Structured Data
Structured Data is a method of adding code to your web page to help search engines categorize and better understand your content and properly index it.
Select the desired SEO KickStart options below. Choose either Google Business Profile or SEO KickStart, not both. For additional local ranking traction, also choose both Citations/Directories and the Aggreators packages. Please note that the Aggregators package is a yearly cost that once setup will be automatically billed. 
Having trouble deciding on a package? Give us a call at (512) 661-2400 and one of our SEO consultants will be able to guide you through your decision. You can also fill out the form below or send us an email to sales@rizeavs.com.
Google Business Profile
starting at
Setup/Claim GBP Listing

Enter Business Data

Setup Call Tracking

Optimize GBP Listing

Set Business Service  Area

Select Business Categories

Setup Google Maps Data

Track Customer Reviews

Monthly Progress Reports
SEO KickStart
starting at
Generate Meta Titles

Write Meta Descriptions

Setup Google Search Console

Setup Bing Webmaster Tools

Setup Google Business Profile

Setup Bing Places for Business

Analysis of each page

Microdata Research

Installation of Microdata on relevant pages

Code Verification

Duplicate Content Checking

Monthly Progress Reports
Citations/Aggregators
starting at
Business Data Submission

Update Main Aggregators

Manual citation clean-up

Claim directory listings

Build new, accurate citations

 Submit to new directories

Remove duplicate listings

Permanently Claim

Regular Progress Reports
Ready to Start Selling Online?
Fill out the form below to get started
KickStart SEO Quote Request.
Please be as detailed as possible. This will help us to determine what services would work best for your application. Once we start with the quote, we will need to setup a call to review all the details. Depending on the requirements, a consultation fee maybe required.