Tangible marketing.
Making impressions.
Printed pieces are the perfect tool for distributing in person by hand at events, shows, sales meetings, and to interested customers. A business card, brochure, or flyer is something customers can touch, keep, and pass on to others. It enables potential customers to review your business products and services at a later date when they have time to reflect and make an informed decision about which company they will proceed with.
Award Winning-
industry centric marketing materials
Reaching Customers!
Print marketing builds trust in your brand. It is a permanent and tangible reference material that is not easily forgotten.
Grab your customers attention! Rize above your competitors!
Distinctive -
Home Automation Lighting Control Motorized Shades
New York City
Helping you connect with your customers
Literature Pieces Printed
Print Design Services
We are fanatical about your business' tangible presence. It's a competitive world out there, and making a good first impression is vital to communicating your objectives and establishing relationships with prospective clients. Our design team works collaboratively to give your company an eye-catching brand to put you ahead of your competitors.
Custom Design
Our in-house team designs every part of your marketing campaign with the goal of presenting your brand in a  professional light.
Content Writing
We offer unique content written by professional writers who also have extensive experience in the Audio/Video and Security Industry.
250,000+ Images
We have built up a database of over 250,000 industry related images that we provide for use in our projects.
Product Images
Over the years we have worked closely with many of the industry manufacteres to enable us to provide you with awesome product images.
No Templates
All our styles, layouts, and designs have been developed in-house. We don't purchase templates and just slap your logo on.
We have put together a short list of the types of print materials we can design for your company.
Give us a call at (512) 661-2400 and one of our design consultants will be able to guide you through your decision. You can also fill out the form below or send us an email to sales@rizeavs.com.
The Business Card is your most powerful sales tool. It is low cost and low tech but keeps representing you long after it leaves your hands. Make it the right impression.
Our Standard Business Cards come with multiple paper options and quality finishes to make them stand out from your competitors.
The Tri-Layer Business Cards add substantial heft to the stock weight and an expensive finished look and feel.
The Plastic Business Cards provide you with a near indestructible  business card ideal for handing out on the construction site.
You don't get a second chance to make a first impression. Ensure a positive start to the sales process by visually impressing your clients. A professionally designed brochure will help instill confidence that clearly defines you are the right company for the job.
Compact, inexpensive, and easy to pass out, the folded brochures are a great marketing and sales tool for your sales.
Our professionally designed multi-page brochures will instill confidence that clearly defines you are the right company for the job.
Our brochure folders bring something special to any proposal or presentation. A company brochure combined with a folder
The Flyers and Folders are a quick and convenient way to present your proposals and provide cut sheets about your services and warranty options. Most businesses heavily rely on flyers as a part of their marketing campaigns. Pass them out at home shows, at networking events, builder association meetings, or include them with your proposals.
Very cost effective way to promote your business.  Many businesses heavily rely on flyers as a part of their marketing campaigns.
Combine the Staggered Cut Flyers with a matching presentation folder for the perfect professional quotation delivery package.
Present your proposals, flyers, and specification sheets with our professionally designed Presentation Folders.
The Door Hanger and Construction Nailers are a cost-effective way to promote your business. They are automatically set apart from other junk mail since they're next to impossible to ignore, and they're extremely cost effective to print and distribute. Our Window Cling none permanent stickers are a great marketing tool for commercial properties where you can attach these on glass doors and windows after hours.
Our door hangers automatically set you apart from other junk mail since they are next to impossible to ignore.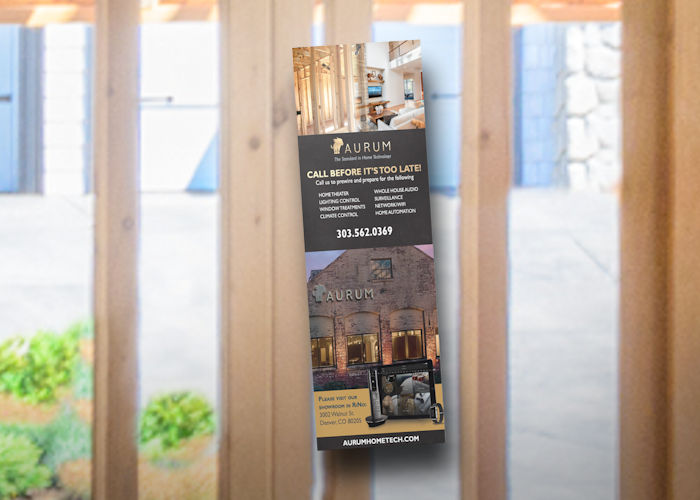 The perfect solution to advertise your business on construction sites when the builder or home owner is not available.
Quick to put on your store windows and equally quick and easy to pull off without any mess or fuss.
Postcards, Envelopes, and Mailers are a simple and low cost sales tool that's a perfect way to market your company and its services to potential customers. Whether it's mailing to an area or new movers, a AVS Rize designed Postcard is sure to catch your customer's attention.
Make a bold statement with professionally designed envelopes for all your company correspondence and mailings.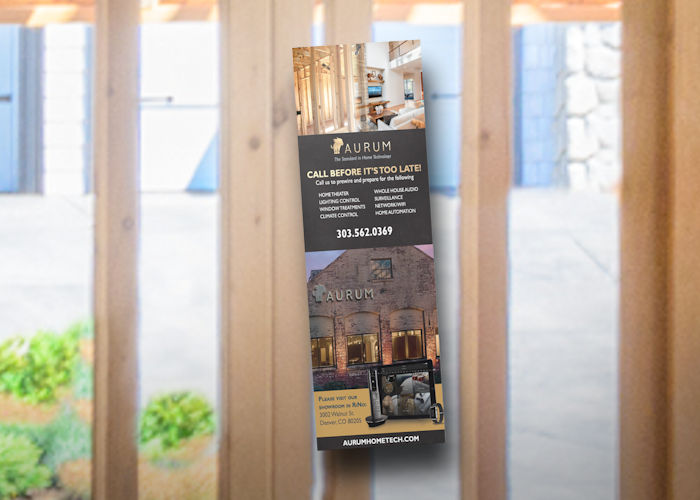 Our professionally designed Postcard are a sure way to catch your customer's attention and close the sale.
Mailers are a simple and low cost sales tool that's a perfect way to market your company to potential customers
Fill out the form below to get started
Print Design Quote Request.
Please be as detailed as possible. This will help us to determine what services would work best for your application. Once we start with the quote, we will need to setup a call to review all the details.