Delivering service.
Performance audio.
24/7 Monitoring and Dispatch
Southwest Dispatch Center strives to keep their alarm dealers one step ahead of the competition with State-of-the-Art facilities that harness redundancy and deliver reliability. With 2 locations in both Dallas and Houston, they are one of the southern United States largest and leading monitoring and dispatch central stations.
Southwest Dispatch Center is an independently owned, U.L. listed wholesale central station providing quality services to professionals in the alarm business.
Started in 1989, Southwest Dispatch Center has always been the "Dealers" central station that strives to provide the products and services to make the dealers life easy.
They are committed to providing their Dealers with innovative technologies and unsurpassed customer service. With a wide variety of services, Dealers have the ability to offer their customers more options.
With the change to mobile friendly websites, it was time for a new upgrade to their now old website so they turned to an inexpensive web designer that had been recommended by another customer. Unfortunately after about 2 years in development, the website was going nowhere. The designer, who was located in Russia, had a life change and stopped responding!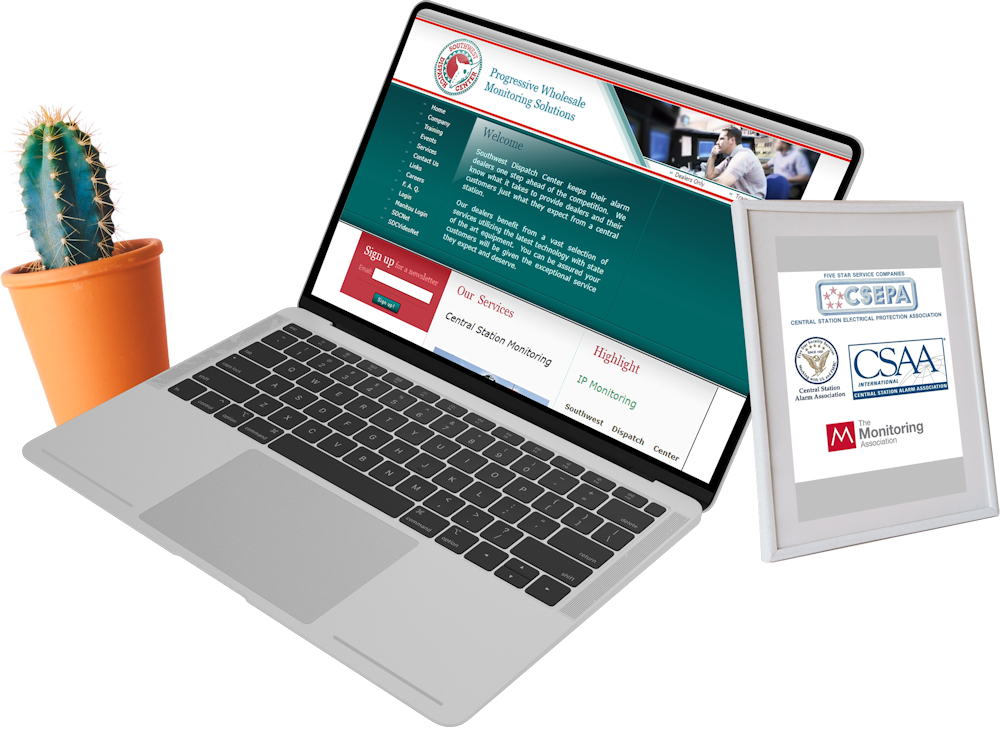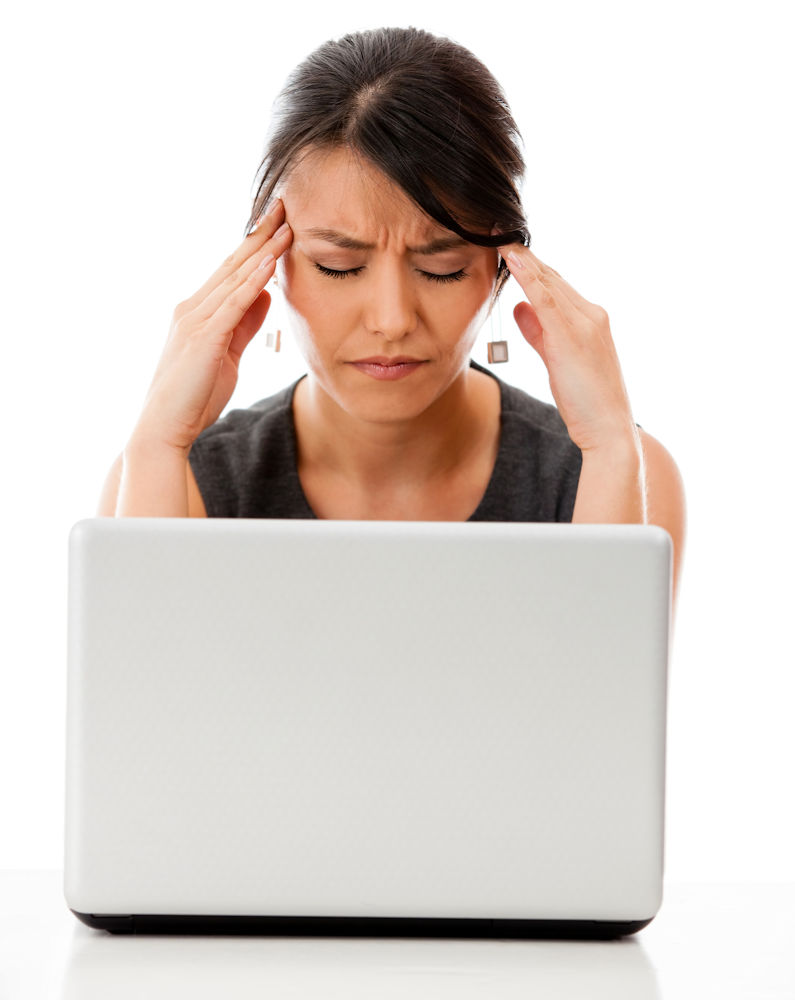 In a previous life, my AVS company had used Southwest Dispatch as our central station and had had firsthand experience of their professionalism and quality of service. The challenge was how to take this old website and transform it into a new professional website that did justice to the company behind it.
Southwest Dispatch is a B2B business, therefore it needed a strategy and goal in order for it to be of any use, both to its owner and its visitors. That's we started with defining a clear and solid strategy;
What information is of value to security dealers?
What pages are necessary and what value will they provide?
What makes them, and therefore the website, different from competitors?
How do they want to be perceived?
What are their goals and how will the website contribute to reaching them?
User experience is everything in today's digital world, and this is especially true in the security industry where time is critical. Our challenge was to take all this and build a website the was both modern, responsive, functional, and memorable.
The result is a responsive, flexible website with a progressive, yet functional design and an expansive secure dealer portal complete with a highly customized eCommerce store and many other features.
From the moment the ink dried on the contract, the Southwest Dispatch team placed its complete trust in our creative direction, while simultaneously collaborating with our developers and designers, we developed the design theme, wireframes, detailed user navigation, and laid out the secure dealer portal.
After several creative design reviews, content updates, and user interface and navigation flow iterations, we arrived with what forms the core of the current site.  However, almost immediately after going live with the new website, we started expanding the site with additional features like drop shipping for the dealer store, dealer customer setup forms, and training scheduling services.
The result is a scalable, flexible website with a progressive design and highly customized ecommerce system that is as easy for Southwest Dispatch to manage on the as it is for its dealers to manage their customer monitoring information.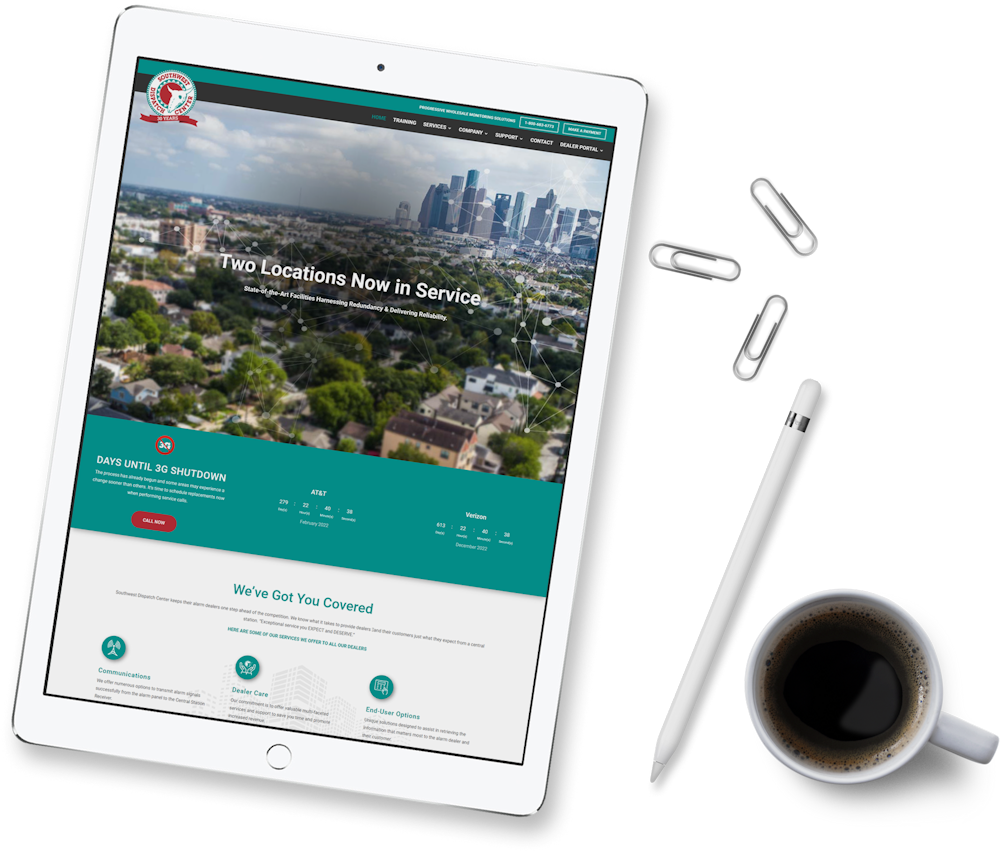 Highlighted Website Features
We have highlighted below just a few of the features that make this a project that stands out from the hundreds of websites we have built over the years. The results have been a significant increase in efficiency for Southwest Dispatch Center on managing their dealers who in turn have benefited from a streamlined alarm account management portal.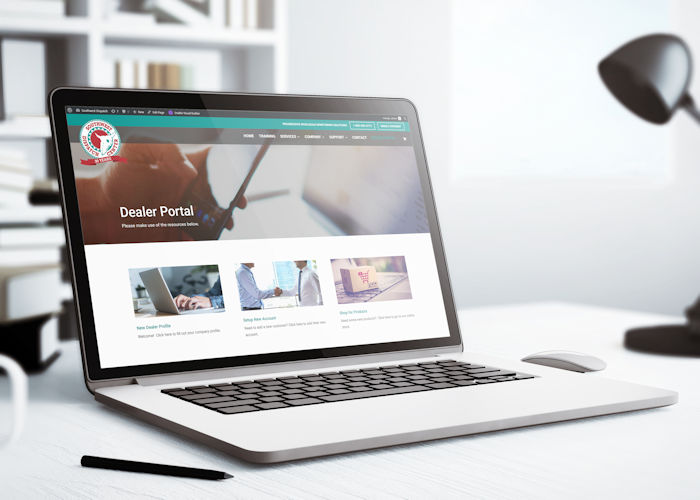 Dealer Portal
Integrating an effective dealer portal where the dealer could register and manage their customer monitoring accounts effectively and efficiently was essential. As an alarm monitoring central station handling life safety emergency situations, the data that needed to be collected was substantial requiring complex entry forms and account update features and methods.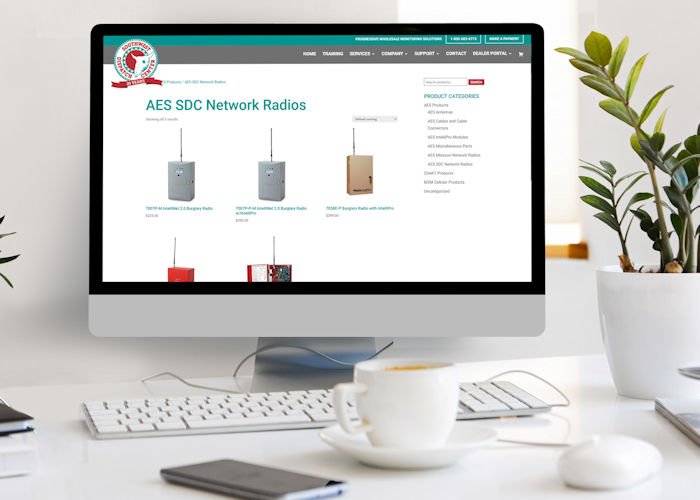 Dealer eCommerce Store
With technology constantly changing, Southwest Dispatch decided that they wanted to help make life a bit easier for their dealers by setting up an eCommerce store inside the dealer portal. Here the dealers can easily find the equipment that they need to correctly setup security alarm and video surveillance monitoring systems.
Product Drop Shipping
The next challenge that faced Southwest Dispatch Center was that their dealers often needed the equipment quickly shipped and delivered that they had just ordered in the Dealer Store. Southwest Dispatch Center soon realized that they were not setup to manage quick shipments, so we added a drop shipment solutions where the equipment manufacturers would fulfill the orders.
Print and Mailing Services
To notify their dealers of new products, services, and legal requirements, Southwest Dispatch Center has used email blasts and mailers which they used to design inhouse. When we took over their website, they also asked that we manage their email marketing and mailers with a few flyers mixed in for more complex notifications. Depending on the notification, we have also designed landing pages with additional information to support the mailers and emails. Below are a few examples;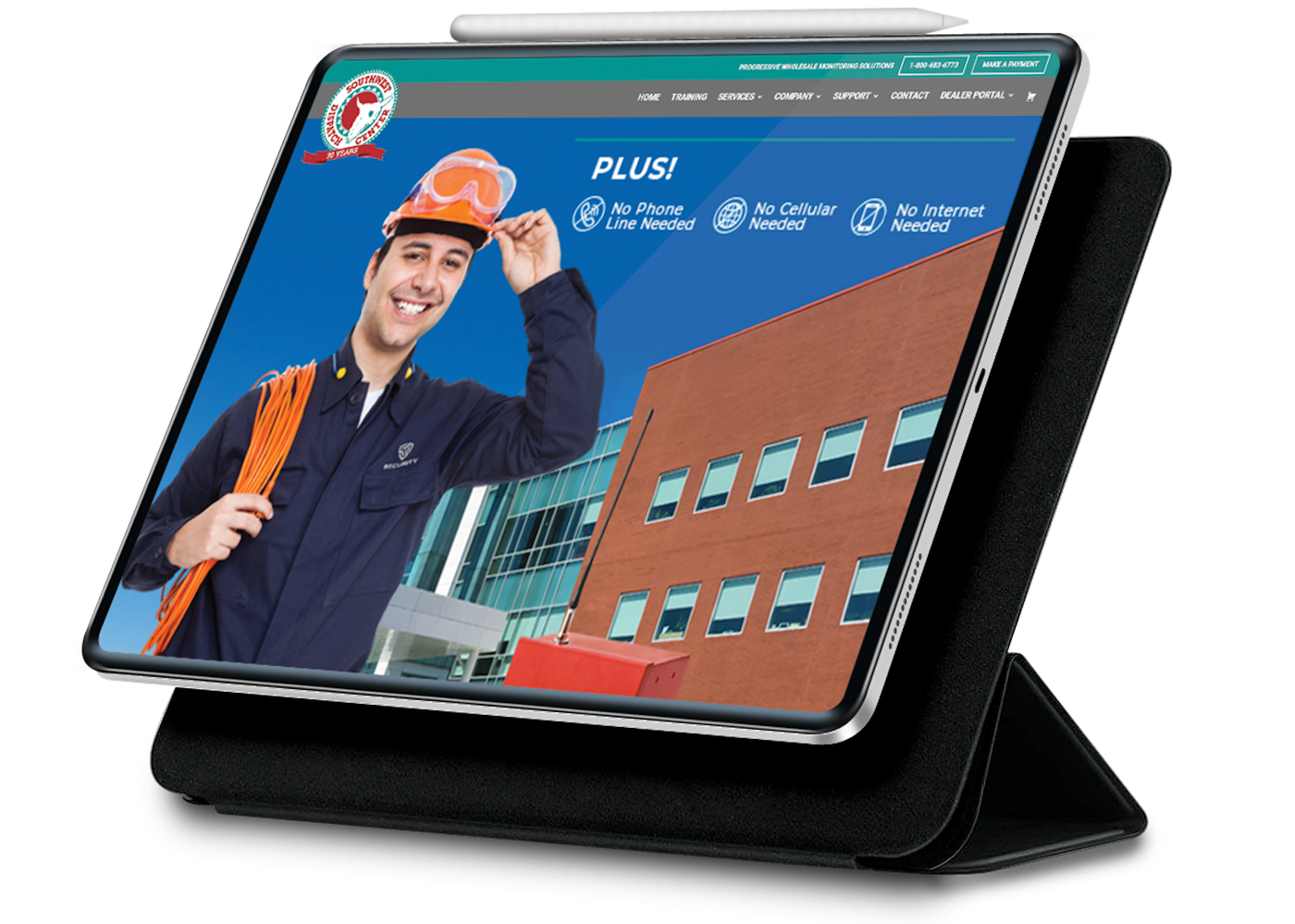 Your content goes here. Edit or remove this text inline or in the module Content settings. You can also style every aspect of this content in the module Design settings and even apply custom CSS to this text in the module Advanced settings.
Southwest Dispatch Project Gallery
Our main concentration for Southwest Dispatch Center has been building up their digital online presence with the primary work focused on their website https://southwestdispatch.com/. However, we have done many other projects from Email Blasts to Post Card Mailers and Information Fliers and even presentation graphics from some of the security courses that they teach. Below are some more pictures of our other projects with Southwest Dispatch.

Website Quote Request.
Please be as detailed as possible. This will help us to determine what services would work best for your application. Once we start with the quote, we will need to setup a call to review all the details. Depending on the requirements, a consultation fee maybe required.
[contact-form-7 id="1131"]