Websites have become essential to businesses, and to leverage your digital marketing strategy, you should drive traffic to your website or landing page. A well-designed, functional website is the online foundation of your business, providing a presence and voice. Your website should act like a full-time salesperson who never sleeps. At Rize Marketing, we are passionate about your business's online presence, starting with a website. Here's a brief overview of what makes an effective website and why you need one.
Important Elements
Displaying your brand in front of prospective customers is one of the most important things you can do for your business. Some of the most critical aftereffects of a website are leads and an improved conversion rate and sales flow. But how does that actually work? A few significant elements of your website are purposeful visuals, navigation tools, and multi-device responsiveness.
Purposeful Visuals
Viewers are more likely to interact with videos than text on your website. However, too many images or videos can create clutter. Be purposeful when choosing visuals for your site. At Rize AVS, we have many industry-related pictures to keep your site relevant. Sometimes it's helpful to have a gallery where viewers can see your portfolio and verify your credentials. Galleries also help showcase all your services and may lead to upsell opportunities.
Navigation
Viewers are most likely checking your site for answers to their questions. A solid navigation menu will ensure your viewers don't struggle to find the information they're researching. Keep in mind that viewer's attention spans are short, and if you want them to remain on your page, you should implement a navigation system that is easy to use.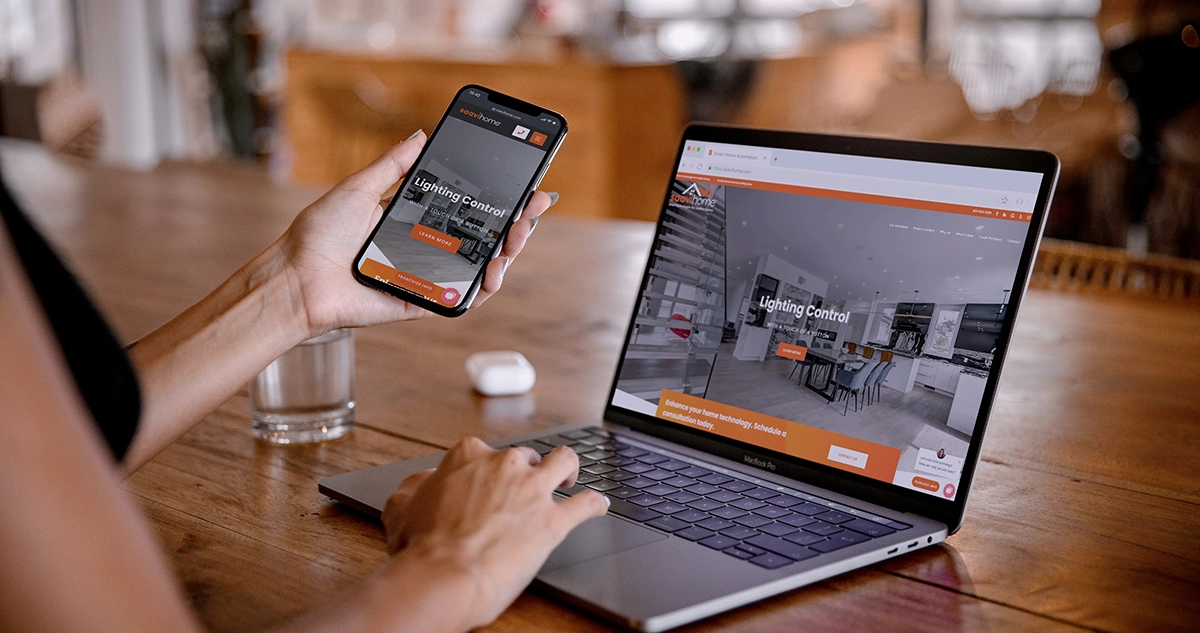 Responsiveness
Your website is live 24/7, meaning viewers can access it anytime. Your website views might be from many types of devices, including desktop computers, smartphones, or tablets. Smartphone viewers will see a poor representation of your site if it's optimized for desktops only, which might discourage them from browsing your site. A website optimized and responsive to all devices will give viewers a positive experience that could create a strong relationship.
Benefits of a Well-Designed Website
Traditional marketing techniques only allow for estimating your progress. Digital marketing and websites, in particular, give you a broader reach to customers and insights into their behavioral data. Depending on your settings, you can see what keywords they search, their clicks on your site, what content engages them, and when they close the tab. However, websites don't only give you insights but also give your customers a first impression, trust, and a consistent feel.
Impressions
When a viewer lands on your site, it gives them a first impression of your business and the customer service you provide. The old saying is to never judge a book by its cover, but more times than not, a viewer will immediately make a judgment based on the look and feel of your website. If your site is outdated, hard to decipher, or unappealing, viewers will find a different website with answers. The same goes for the amount of effort you put into your website; viewers associate it with the amount of effort you will put into their needs. If your site appears neglected, viewers assume you will overlook them.
Trust
Building trust is an essential part of digital marketing, but especially so in the AVS industry. Many of your services involve entering your customers' homes or businesses. If they don't trust you, there's a chance they won't open their home to your work. If they trust your website, they'll remain on it, leading to more capturable leads. Updating your website with team pictures, project pictures, and relevant content will help you gain the trust of your audience.
Consistency
Brand reputation is vital in marketing your business. A website with consistent content will ensure your customers choose you when it's time to make a purchase. Consistency comes from fonts, styles, and layouts across your site. If your pages have multiple themes, it can look unprofessional. When there are too many fonts, colors, and styles used, your viewer might get confused and not know what to associate with your brand. You can turn your current customers into long-time buyers by keeping your brand steady and dependable.
Rize Can Help
Your website should act as the face of your business. If someone were to walk into your office, you don't want their first encounter to be a cold and gloomy receptionist but rather a friendly smile. We understand that all businesses differ and have unique needs for their website. That's why we offer web packages tailored to your company and goals. Getting websites right is hard to manage, but our team at Rize AVS is here to help with decades of industry experience and expertise. Contact us today and watch your website Rize!